It all began with a military mask dating back to the second World War that was found in the glaciers of the Dolomites. Eric Balzan and Mirko Forti, the founders, got inspired by the mix of metal and fabric and started creating their own collection.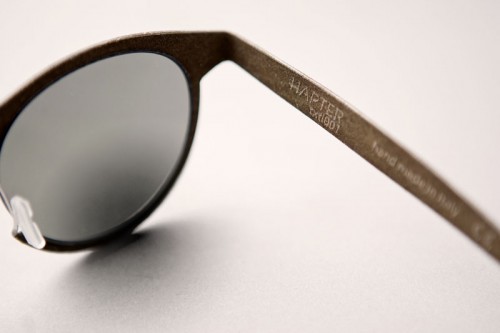 It took three years of research to give birth to this patented technology of production. It is an exclusive industrial technique, combining artisanal values and high technology.
The frames are made in just one piece. The designers have created a harmony between surgical steel strips and precious fabrics produced by Cerruti.
Between the rigour of northern engineering, the Mediterranean creativity, the key structural design and the craftsmanship, Harper is a solid, powerful and discreet frame collection which triggers all senses
A few grams of innovation are enough to give you full protection, comfort and personality.
The case has also been carefully considered. Eric and Mirko were inspired by rolled accessories used by the soldiers to carry their belongings. A versatile accessory to protect your glasses everyday of life.
Hapter received the prestigious award of the IF Product Design 2013, which promises a bright future in the high specatacle field for the brand.
Come discover this unique brand in our shop 30, rue de la Trémoille.