The first thing I think of about Buffalo Horn is the softness of life and the strength of this unshakable animal.
The natural horn used to make spectacles comes from water Buffalo. The horns can grow up to 2 meters but only a fraction of it is exploitable for the manufacturing of frames.
Refined and rare, horn is light as well as hypoallergenic and resistant.
Each pieces of horn used to make frames is carefully chosen in order to get the best harmonious result in terms of tones, finish and colours. The production requires a complex know-how that can only be the result of many years of experience in the field.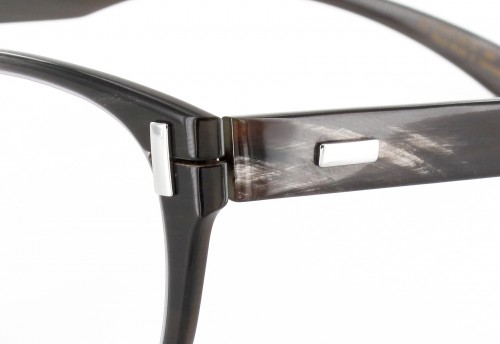 Buffaloes, from whom the horns are taken, are bred in farms for their meat and the horns are collected after their death as part of recycling. This is therefore done in complete respect of nature, ecology and more importantly of the animal. The left over of the horn is used as a natural fertiliser.
I loved Ralph Vaessen's collection from the moment I first saw it. This designer offers, to those who appreciate luxurious products, beautiful horn frames of unequalled high quality.
For the manufacture of his frames, Ralph Veassen trusts Hoffmann, one of the few houses to know the intricate technique of making horn frames. After selecting the best suitable pieces of horn, fine sliver are assembled together. This work gives this extraordinary unrivalled colour and light. Such a high level of expertise only comes after many years of experience of working horn and tortoise shell passing through generations of skilled craftsmen.
These unique pieces will lavish rare and precious object lovers. Come discover our selection at the shop.30, rue de la Trémoille.